Conversion and Calculation Program
---
Due to many requests, the Conversion and Calculations program has been reworked to run on Windows Vista. This program is available for other versions of Windows.
The following screenshot shows the main menu of the Conversions and Calculations program.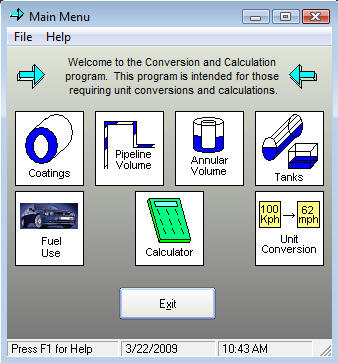 There are currently five main section of calculations which are: Coatings, Pipeline Volume, Annular Volume, Tanks, Fuel Use, Calculator and Unit Conversion. Feel free to download the program.
This compressed download is 2.0 megabytes in size. Installation requires at least 60 megabytes of uncompressed hard drive space.
Click on the button below to request a version to be e-mailed to you.